Product marketing requires deep marketing research, smart goals and persistence. How to create a product launch marketing plan? This is a case study of my cooperation with a Spanish-based company I had an opportunity to work with in 2018-2019.
Product Launch Plan – Marketing Strategy
Sheetgo is the no-code automation tool for teams. It allows you to create custom workflows to collect, manage and share data — all from a spreadsheet.

My goal at the very beginning of the work is simple: to understand the business, its clients, and challenges. Planning of the work begins with an extensive analysis of the company's situation. I always start with the deep market — business research and competition analysis to create product launch plans. These actions determine the business's direction and opportunities, as well as its strengths and weaknesses.
From research to strategic plans and objectives
My responsibilities:
Making the brand visually attractive and visible for the upcoming product launch
Successfully launching the new version of the product in the US market
Creating positive brand awareness in social media
Managing the company's profiles on different platforms, building a backlinks repository
Attracting new potential customers to test the product
Helping to build a strong CEO's personal brand
Product Launch vs the website redesign
The way your business presents itself online is crucial especially for a new product launch. As we know, the first impression is the most important. While browsing the internet our attention span lasts 10-20 seconds, and after this time we decide to leave the website.
When I started to work with Sheetgo, the branding was pretty outdated and my goal was to create its refreshed version for the launch of the brand-new product. I did UX design research focusing on SaaS startups and businesses in different fields to get some insights and inspiration. As a result, I proposed new solutions for presentation and communication.
As I believe product and company websites are the key to the customer's heart, we created pure magic in terms of new visuals and design. I was fortunate enough to work closely with Rafael Silver from Sinistra Design (Brazilian-based agency).
I focused mainly on clear communication to help the customer understand the services Sheetgo provides. I pushed towards conversions, so every section gave the opportunity to test the product right away.
Product Launch plan: Product Hunt
Launching a new product to the market has always been my favorite part of the marketing journey. There is no better thing for me than to create everything from scratch. That's the moment when my creativity and ideas are endless.
For those who don't know what Product Hunt is — It's a listing platform where you can discover brand-new products from across the globe. From physical products to applications and software.
The most important parts of the Product Hunt campaign are timing, appealing graphic design, product story, and social proof. I hunted Sheetgo Workflows at 9 AM CET, so it was a couple of minutes after midnight in San Francisco. It gave me more time for promotion both in the US, and Europe. I ran the social support machine, by doing some magic on social-media. I created a step-by-step strategy for the team to spread the news on the Internet. Then, the CEO and general managers contacted their partners and significant clients who could also help in getting the first attention. The power of networking is everything. Don't forget it is crucial to get customer feedback to make future improvements.
🎉 Results:
Sheetgo Workflows took the 3rd place as Product Hunt's product of the day, which attracted 2 000 visitors to the website, and 400 potential clients who decided to sign up and try the product.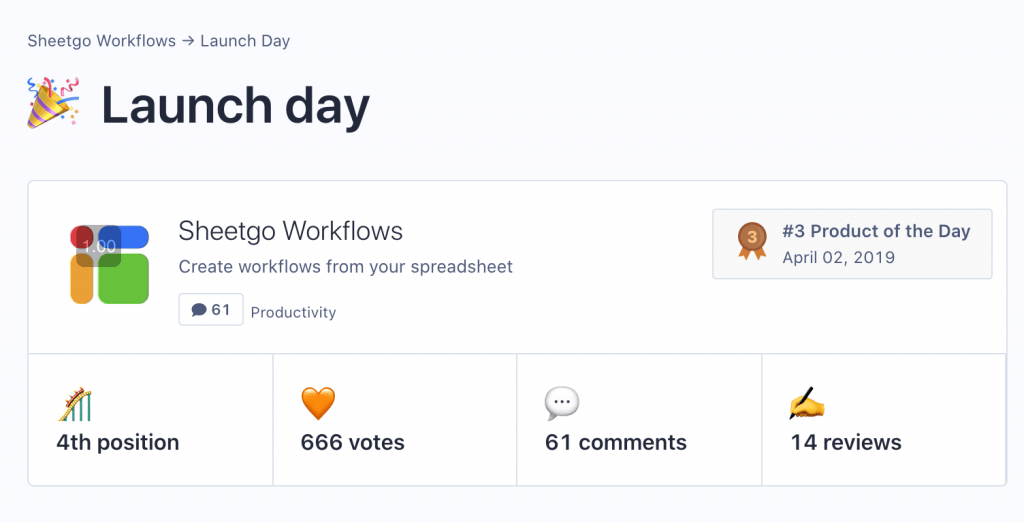 Getting potential clients interested in the product
Before I started doing some activities, my main goal was to find a way to make this solution exclusive. Many business owners and managers use Google Sheets for different managing tasks, but the key was to convince them that they needed exactly Sheetgo Workflows.
Marketing strategy on Facebook
I created different versions of easy graphics with the spreadsheet automated template that Sheetgo offers. I pointed out key functionality and made it my goal to make it viral by sharing it on different Facebook groups. My targets were small biz owners, marketers, managers, indie makers, etc. I published a sneak peek, and waited for the responses asking for the link to try Sheetgo for free. And it worked.

After the Facebook group giveaway, I ended up having over 200 comments, and a huge amount of hot leads to work with. I followed this strategy a couple of times, and as a result, I had over 300 people who signed up to test the product. Since it was so popular I had to share the registration link, because I wasn't able to contact every single person. Once you chat with too many people, Facebook may block you. 😅
Startup Communities for launching a product
Did you know that there are many different Slack groups out there, that associate highly skilled marketers, business owners and all professionals? I did research on different such communities from across the globe. Some of them are free to join, the rest might be commission-based, but it's worth lurking and doing some networking there. Within these communities, I promoted spreadsheet templates dedicated to marketing, finance, and inventory management.
I wrote a story, shared some extended access to the product, and as a result, I gained 65 new, happy users.
🎉 Results:
To make some connections and attract people from the startup sphere, I was pretty active on Indie Hackers, and it also brought me 50 users along the way.
Quora for product promotion
Quora is a question-answer website, with great community and traffic possibilities, but only if you are patient enough. I tried Quora as a new distribution channel, and it had worked amazingly as a backlinks repository, brand awareness, and user acquisition space. On this platform, I focused mainly on spreadsheet-related questions with targeted market segments such as: inventory, finance, marketing, etc. Since Sheetgo provides several ready-made templates for different sectors, these three segments were the most desired among users.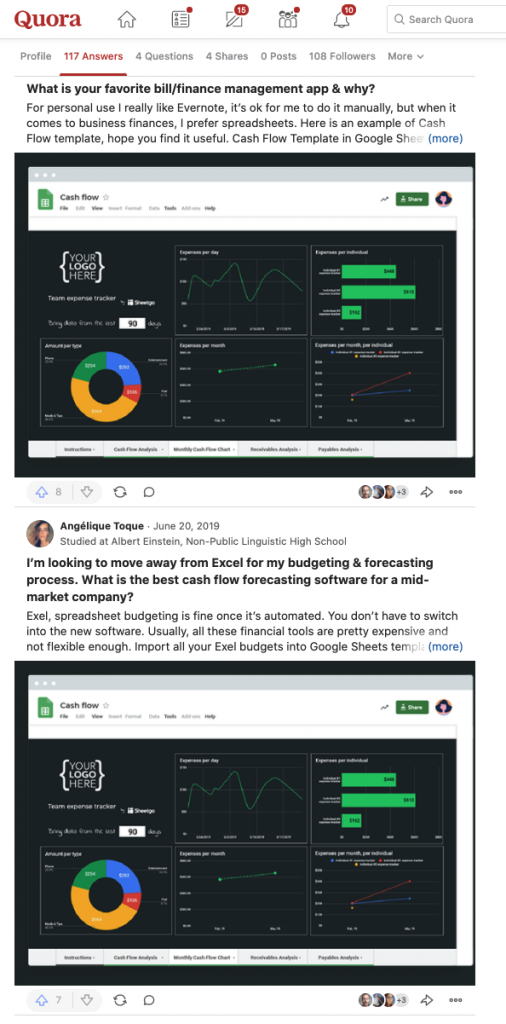 🎉 Results:
I answered around 100 questions, and as a result, it brought me 700 new users to the website, and 100+ users who signed up to test the solution. I also posted the link on Mix (previously Stumble Upon, Pinterest, etc). These small activities helped me get extra 30 users.
Influencer Marketing & affiliates as a product marketing
First all I started the research to find out the key influencers that may help me spread the news about the product. To my surprise, there are not many spreadsheet-oriented people who generate content around this specific niche. I gained some backlinks, and within a few weeks, I started a collaboration with a Youtuber, who already had his own, pretty engaged community. We generated a special link, and every time a new user signed up through the link. Then we paid him extra money for the user acquisition and promotion.
🎉 Result: around 90 users within 2 weeks.
Startup Directory
Being visible in different places and platforms is crucial for your product launch plan. Make sure that your company or product is discoverable. Such listings are not only great for search engines but also backlinks and SEO. It's also an opportunity to keep track of your competitors, see how they position themselves, what features and services they provide. Consider using these platforms for more exposure, and recognition.
When it comes to startup promotion, all you need is a good strategy and creative approach to turn problems into challenges. Learn how to experiment with the content in real-time to get the best results. Show real value in your product and provide solutions to solve people's struggles and problems. And most importantly, remember that marketing is all about process, there is no overnight success.