Webinar marketing and strategy seems to be a piece of cake, but in fact, it's a pretty complicated process that requires a lot of attention to detail and flexibility in order to cope with unexpected challenges and problems. After running over 10+ webinars and online events at Explain Everything (my current work) where I generated over 5k+ webinar leads, I am ready to share with you some best webinar practices.
Get a webinar strategy template with best practices! 🚀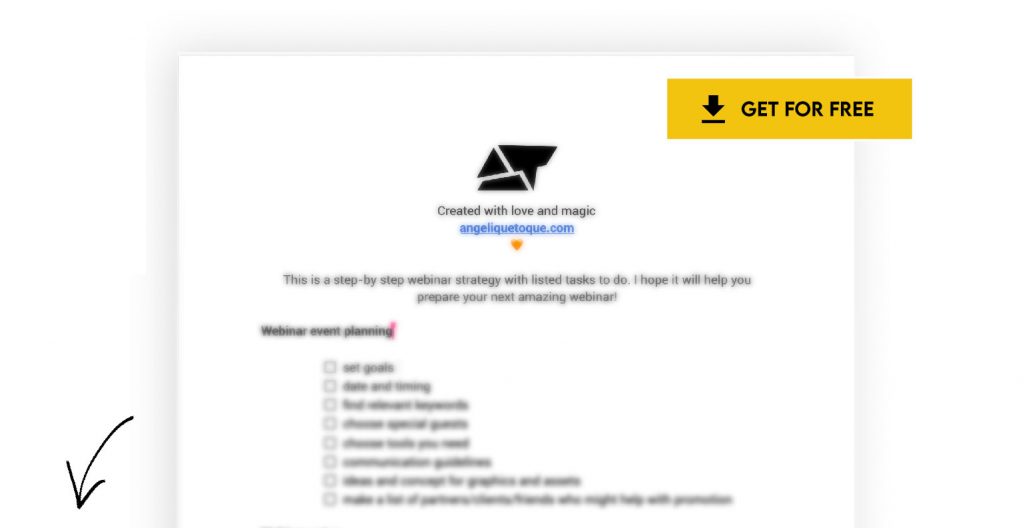 Set a goal for your online webinar
I usually treat organizing a webinar like a small challenge. The most important thing is to know where you are going. Set your goals in relation to the desired number of attendees. First, identify topics and create engaging content. Next, prepare a pre and post-webinar communication plan to make sure that you know what to do in each phase of the working process. Finally, prepare guidelines, and tasks for your attendants, so everyone can follow the strategy and workflow.
Advertise webinar on your platform

The best thing about advertising using existing resources is the fact that it's free. Here are some examples of how you can prepare different promotional activities to attract registrants to your webinar
Create a dedicated landing page for webinars.
Write a blog post, or a brief article on the topic. Invite people to sign up.
Design banners and embed them under all your articles that are related to the webinar topic. This always works amazingly, especially when you get a lot of organic visitors.
Add a pop-up or banner on the front page of your company / product / business.
Add banners within your application. We usually do that at Explain Everything to inform our current users and customers by featuring webinars within the app.
Send push notifications if you have an app / software within your ecosystem.
Insert links and information in your email footer. Contact your Sales Team to update it with them.
Set remarketing campaigns for people who have already interacted with your website. This is a good opportunity to turn visitors into hot leads who might use or test your product or service.
Email communication for webinar marketing
Send newsletters targeted to your existing customers. Probably there are still some leads that didn't convert or pay for your product or service in your marketing base. This is an amazing opportunity to turn them into happy paying customers. Arrange their contact info in your email client provider. Choose potential clients based on activity and key metrics, and see who might be interested in your hosted event. Webinars are a great way to push towards the marketing funnel and sales. Make sure to spend some time crafting good communication and creating webinar promotion emails.
Team up with partners
Engaged community and business partners are the key factors of running a business successfully. I believe that relationships are the heart of marketing effectiveness. At Explain Everything we partner with Apple, Google, Wacom, Samsung, Lenovo, and many more. This helps us reach new audiences and potential clients that might be interested in the services we provide in online education.
Make a list of partners or brand ambassadors that could help you spread the word about the event you host.
Send dedicated partners' newsletters to inform about upcoming sessions.
Make a list of magazines that are in the related niche. Discover the promotion rules. and try paid collaboration to reach new audiences to gain targeted prospects.
Host webinars with influencers or experts that could help you attract registrants from both different fields.
Use your team's networks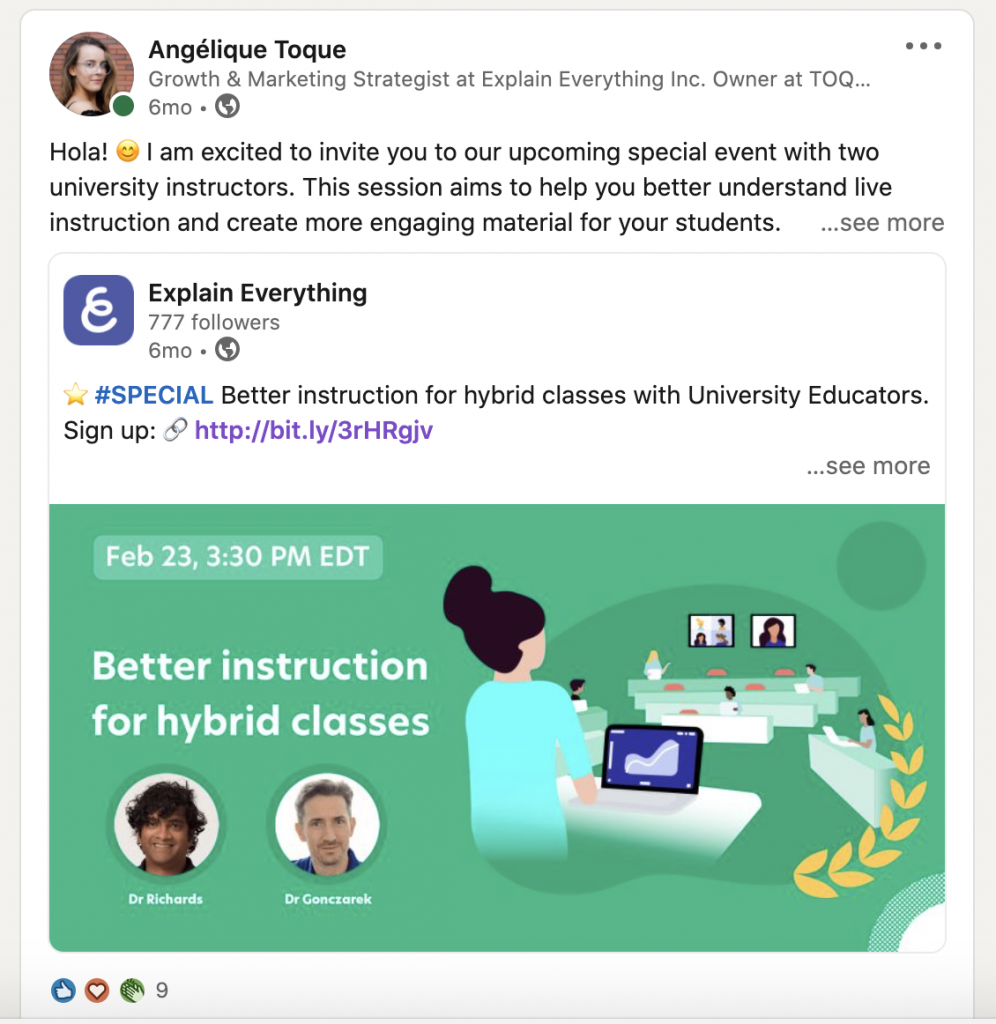 You may ask to do to reach potential leads, so here is a trick! The easiest way to organically build social media outreach is using your existing (free) resources. If you organize events, don't forget to engage your employees or teams. Prepare a copy of materials so that they can use them anytime, effortlessly. Everything to help you with webinar marketing. Don't forget about UTMs or dedicated links to easily track traffic results along the way. This active approach is a great strategy for an employer. Try it yourself and see how many registrants it will bring to your webinar.
Social Media & Groups
It's getting harder and harder to attract custumer's attention these days. During the pandemic, we had been overwhelmed by the amount of content generated in almost all fields. There are plenty of Social Media groups that are already dead and filled up with spam, so make sure to make a list of highly populated ones.
Think about reaching out to the administrator of the group personally. It will help you to promote your content with less stress and to have more tailored offers or proposals. For Explain Everything, marketing via Facebook worked well, especially among groups related to the K-12 (elementary schools) or teachers who were interested in ed-tech and innovation. Think about your target audience, and make a list of the groups you can submit valuable sneak peeks with invitations to.
Post Webinar Marketing Strategy
The marketing of webinars is all about getting leads and building brand awareness. That is the most satisfying part of promoting webinars – potential prospects! Every webinar needs to have an end goal so you can track what the result was, what worked, and what isn't working in the long run.
I created a dedicated webinar path for Explain Everything, tailored to our clients' needs. We usually have three types of leads:
Users who already are our clients, and pay for the service.
Users who are in the middle of the funnel, and they are on the basic (free) plan.
Users who are familiar with online education and they are looking for different interesting learning solutions. These types of users usually don't have an account yet.
Depending on the online webinar I write different types of communication scripts to provide helpful learning materials and teaching resources. I share stories of success by our existing clients and invite the attendants to create an account, test the service for free, or simply to upgrade once they are ready. This is my favorite phase as I keep improving it to make it more efficient in order to achieve better results. At the very beginning, I did the whole process manually, but now I make the process as automatic as it can be, which helps me come up with it faster and more smoothly – I highly recommend this method.
Webinars on demand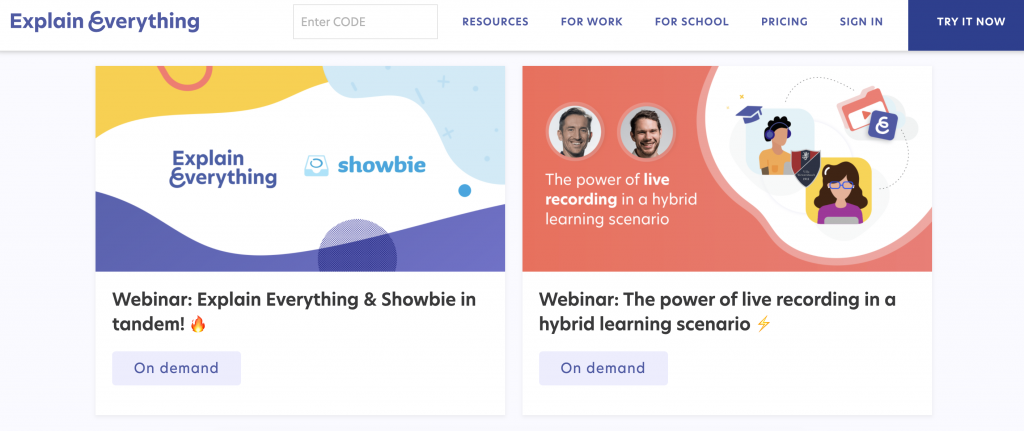 After you finish marketing your webinar there are additional steps that you can take to attract new leads and generate sales. Create a dedicated landing page or a blog post where you can embed a form to collect email addresses. Submitting an address will grant access to the recording. Then you can start your upselling campaigns that will help your potential customers decide to buy your product or service. Here you can find an example of how we do it at Explain Everything.
Generate webinar leads with these strategies! 🚀
Wondering how to succesfully host a webinar to skyrocket your business? Sign up and receive a webinar promotion template. For free. 🎉